Opotiki Golf Club Results 2020 season
Sunday 25 October 2020 Codlin Electrical Open Stableford : Nett Winner: Tane Howe; 64; Stableford Winners; Division One: Barry Howe 39, Ross White 38, Micky Huriwaka 38, Elvis Kelsall 36, Murray Horsnell 34, Charlie Hayes 34, Harold Ruff 34, Paul Brown 33, Bain McKay 33, Milton Kiri 32. Division Two: Hilton Rogers 39, Ngawai Amoamo 37, Bruce Hawtin 36, Elijah Huriwaka 34, Andrew Morrison 34, Butch Tuoro 33, Fraser Hunia 33, Trevor Harris 32, Wetini Mokomoko 32, Ray Johnson 32. Division Three: Jack O'Neil 42, Peter Gleeson 39, Aiden Reeve 39, Darren Watene 38, Joe Honatana 36, Terry Reeve 35, Michael Lack 35, Dave Howe 35, Robbie Petersen 34, Tatana Koopu 34. Womens Division: Kristine Shove 40, Jacqui Rogers 38, Rangi Leabourn 38, Sandra Carlyon 37, Marilyn Harris 37, Gail Stables 36, Doris Petersen 36, Sarndra Tiopira 36, Mandy Walker 35, Janice Hustler 35. Hidden Hole Winners: Bain McKay, Tane Howe, Terry Reeve, Kopua Robinson, Marilyn Harris.
Nearest the Pins: No. 2: Darin Maxwell; No. 6: Lois Margerison; No. 13: Rangi Leabourn; No. 15: Andrew Morrison; No.18: Rob Sullivan. Longest Drives: Women age 40-64: Mandy Walker; Women age 65+: Glenys Hayes; Men age 0-15: Charlie Hayward; Men age 16-39: Micky Huriwaka; Men age 40-64: John McKain; Men age 64+: Denis Newey. Chrunchie Bar: Dion Reeve. Two's: Micky Huriwaka x2, David Moore, Murray Horsnell, Trevor Harris, Robbie Petersen, Susan Gleeson, Jacqui Rogers. Our rolling start turned into a shotgun start when the field cracked 100 players for the 3rd Annual Codlin Electrical Tournament. Eric and his team put on an amazing prize table and BBQ with everyone going home with something. We welcomed many visitors from Auckland, Tauranga and all around the Eastern Bay. Tane Howe had an outstanding round and his chores will be easier after winning a brand new lawn mower. Jack O'Neil who lost the Nett prize on a countback will be able to sit back and film Tane mowing with his new GoPro. The big prize, a heat pump and free installation, was drawn out at the end of prize giving and went to Karen Trafford. A massive thanks to our sponsors, Eric and Sharon Codlin from Codlin Electrical and Hori Lack from Opotiki Drainlayers, without them this amazing day would not have been realised.
Sunday 18 October 2020 Opotiki Club Champs,. Senior Club Champ: Micky Huriwaka; Senior Runner Up: Dion Reeve; Senior Plate Winner: David Moore; Intermediate Club Champ: Tom Henwood; Intermediate Runner Up: Ngawai Amoamo; Intermediate Plate Winner: Trevor Harris; Junior Club Champ: Joe Honotana; Junior Runner Up: Wayne Morrow; Junior Plate Winner: Peter Gleeson; Junior B Club Champ: Tatana Koopu; Junior B Runner Up: Mike Lack; Silver Club Champ: Tyla Kingi; Silver Runner Up: Polly White; Silver Plate Winner: Kala Reeve; Bronze One Club Champ: Sarge Tiopira; Bronze One Runner Up: Veronica Phipps; Bronze One Plate Winner: Debbie McKillop; Bronze Two Club Champ: Jacqui Rogers; Bronze Two Runner Up: Marilyn Harris; Bronze Two Plate Winner: Karen Trafford; Under 15 Junior Club Champ: Hasley Howe; Under 15 Junior Runner Up: Makau Phipps; Under 15 Junior Plate Winner: Waimanawa Robinson
The Club Champs was played in spectacular conditions on Sunday, a large crowd gathered to watch and were entertained by the competitive golf on display. Micky made it back-to-back Senior titles. It was always going to be difficult for Dion as Micky has recently been in very fine form. Tyla Kingi showed off her prowess on the course with her extreme length off the tee leaving Polly few opportunities to win holes. The intermediate mens turned out to be the feature match of the day. It came down to one piece of bad luck for Ngawai in the closing holes that tipped the balance Tom's way and he hung on to win on the 35th hole. The experienced Sandra Tiopira proved too steady for Veroinca to get a look in during the Bronze One match. Another great match was Joe Honotana and Wayne Morrow in the Junior division, Joe held it together nicely throughout the day but Wayne still managed to take him to the 32nd hole. After a nervous start our new comer Jacqui proved to be to strong for Marilyn, winning on the 15th. In the Under 15 Junior's it was a close match with the lead seesawing between Makau and Haze with Haze eventually winning on the 17th.
The surprise match of the day was the Senior Plate final, David Moore and Tim Hickey could not be separated after 18 holes which sent them down to a sudden death play off. After 8 extra holes they still could not be separated. On the 9th extra hole they were both in trouble from their tee shots but David's superior recovery skills saw him take out the match. Or maybe it was just luck.
Sunday 11 October: Ladies Closing Day Teams Tournament. A fun team format with 24 ladies playing followed by a yummy lunch catered by Gaye. Results were – 1st Jocelyn Griffiths, Irene Moore, Jan Gibson and Janice Hustler – 112 points, 2nd The Skittles, Sarge Tiopira, Rita Maxwell, Veronica Phipps, and Jacqui Rogers 110 points, 3rd = Red Devils, Marilyn Harris, Maria Gebert, Kate Morrison, and Kura McMillan, 3rd = C.D.L.S, Cushla Steenson, Doris Petersen, Lyndsay Maxwell, Susan Gleeson. The Skittles, dressed in there coloured tutus and big glasses won the best dressed. Well done to everyone. Another great effort from our Opotiki Ladies. Just a few more competitions to go before our club prize giving and closing day 31st October. A big thank you to all our golfing ladies for making 2020 an amazing year despite a few Covid disruptions.
Sunday 4th October: The 12th annual Eastern Bay of Plenty Golf Interclub Challenge hosted at Ohope. The challenge includes the five clubs in the Eastern Bay, Ohope, Whakatane, Kawerau, Te Teko and Opotiki, the trophy is won by using the team's combined stableford. Opotiki managed to come out on top with some great scoring from our ladies, Glenys Hayes with 41 and Gail Stables with 40. The juniors carried us through with contributions from Jack, Shaynee, Aiden, Hasley and Elijah. It was great to see so many of our kids representing our club. We are looking forward to defending our title at home next year. Thanks to the sponsor Pacific Golfer Magazine for the continued support of this tournament.
Saturday 26 September 2020: Mens Results: Marcus Abraham 42, Stephen Walker 40, Harold Ruff 40, Micky Huriwaka 38, Joe Honotana 38, Charlie Hayes 37, Blair Draper 37, Colin Kemeys 36, Hiton Rogers 36. Nearest the Pins: Waiotahi's No. 6: Damian Zeier; Ray Shove's No. 13: Elijah Huriwaka; Opotiki Drainlayers No.18: Graham Bowden. Two's -Charlie Hayes, Micky Huriwaka, Blair Draper. Chrunchie Bar: Peter Gleeson on countback. Junior Kids Results: Kopua Robinson 46, Shaynee Tai 45, Jack O'Neill 43, Haze Howe 41. Chrunchie Bar: Waimanawa Robinson. The start of the club champs match play produced numerous good scores. Marcus Abraham has sent an early message to the rest of the intermediates that he is one to look out for. Micky Huriwaka showed why he is one of our top golfers with a 67 off the stick and overwhelming Blair Draper. Harold Ruff's 40 points was not enough to get him across the line against Charlie Hayes. Stephen Walker had a bye this week; hopefully he saved some good shots to use against Butch next week.
Saturday 19 September: Mens Results: Robbie Petersen 37, Tom Henwood 37, David Moore 37, Wayne Morrow 35, Andrew Morrison 35, Julian Lee 34, Bruce Hawtin 34, Tim Hickey 34, Ray Shove 33. Nearest the Pins: Waiotahi's No. 6: Julian Lee; Ray Shove's No. 13: Elijah Huriwaka; Opotiki Drainlayers No.18: Kevin McMillan; Two's: Ray Shove, Clarke Karanga. Chrunchie Bar: Trevor Harris. Junior Kids Results: Ngawai Amoamo Jnr 38, Waimanawa Robinson 37, Rico Taikato 37. Chrunchie Bar: Kupu-John Amoamo. Robbie Petersen will be very pleased with his score this week and with the 1st round of match play next week he has no more time to sharpen his skills. The number one club champs qualifier, Tom Henwood is trending nicely towards the first round next week. Surely two good rounds in a row is the best David Moore can do; he'll be sweating for next week. Despite his good round, Wayne still had to go home and organise dinner. Congratulations to Charlie Hayes and Tim Hickey who will be contesting the Vets trophy.
Saturday 12 September 2020 . Mens Results: Tom Henwood 40, Ray Shove 38, Colin Kemeys 36, David Moore 36, Bain McKay 36, Harold Ruff 36, Julian Lee 35, Robbie Petersen 35, Shane Malloy, Eric Codlin 35. Nearest the Pins - Waiotahi's No. 6: Wayne Morrow; Ray Shove's No. 13: John McKain; Opotiki Drainlayers No.18: Glen Steenson. Two's - David Moore x2, Nick Swallow, Robbie Petersen, Bain McKay, Paul Nixon, Tom Henwood. Chrunchie Bar: Elvis Kelsall. Junior Kids Results: Ngawai Amoamo Jnr 42, Haze Howe 38, Jack O'Neil 35. Chrunchie Bar: Charlie Haywood. The greens are recovering well after coring last week and obviously no problem for Tom Henwood. Raymond's form is trending well leading up to his Vets match and rolling onto club champs. David Moore may have hit his peak too early for club champs with 36 points and two two's. Belated congratulations to John McKain for his hole in one last week.
Saturday 29 August: Mens stablefords: Jeremy Paruru 39, Glenn Phipps 38, Tom Henwood 36, Charlie Hayes 36, Tatana Koopu 35, Wayne Morrow 35, Trevor Harris 35, Harold Ruff 34, Eric Codlin 34, Brent McKillop 34, Joe Honotana 33, Hilton Rogers 33, Kevin McMillian 33, Hamish Maxwell 33. Nearest the Pins: Waiotahi's No. 6: Steven Walker; Ray Shove's No. 13: Tom Henwood; Opotiki Drainlayers No.18: Tim Hickey. Two's -Charlie Hayes. Chrunchie Bar: Butch Tuoro. Junior Kids: Rico Taikato 40, Jack O'Neil 40, Shaynee Biddle-Tai 38, Charlie Haywood 35. Chrunchie Bar: Aiden Reeve. It was a beautiful day for the final round of Club Champs qualifying stroke play. Milton Loveridge held his lead in the junior division. A return to work teaching physics has kept Tom Henwood sharp and he took out the intermediate stroke play. The most experienced players of the seniors battled it out for the stroke play, Charlie Hayes and Brent McKillop were forced to go down the 55th it was so close. Charlie won the day by sinking a massive putt and is now claiming to be the oldest stroke play champion ever. Great rounds from Rico and Jack the junior kids, good to see such good scores coming through.
Coring greens starts at 9 am this Saturday so come along and lend a hand. Picking up cores the main task but lots to do to keep the course looking so good.
Saturday 16 August, 2020: Mens Results ( Best nett): Charlie Hayes 71, Milton Loveridge 71, David Moore 71, Steven Walker 71, Lew Kerr 72, Tim Hickey 72, Wayne Morrow 72, Glenn Phipps 72, Ray Shove, 73, Butch Tuoro; Nearest the Pins: Waiotahi's No. 6: Shane Malloy; Ray Shove's No. 13: Sam Howe; Opotiki Drainlayers No.18: Milton Loveridge. Two's: Shane Malloy. Chrunchie Bar: Ross White, John McKain. Juniors Results: Waimanawa Robinson 65, Hasley Howe 71. Chrunchie Bar: Kopua Robinson. The leaders could not be separated in the cold conditions with four people on 71 Nett. Charlie Hayes, Brent McKillop, Tim Hickey and Peter Gleeson all advance to the semi finals of the Vets cup. Waimanawa Robinson showed up all the boys for a second week in a row to take out the juniors haggle. Like the leaders, the chruchie bar winners also could not be separated, well done John and Rosco.
Women's Results. Wednesday, August 12 - Haggle; 1, Janice Hustler 34 points, 2, Sharon Howe 32. Nearest the pin Suzanne Nelson No 6: Polly White ( Nearly a hole in one) Great shot Polly ! Two's: Polly White on 6. Crunchie Bar; Marilyn Harris; Saturday, August 15 - Haggle; 1, Susan Gleeson Nett 68, 2, Maria Gebert 71, 3, Glenys Hayes 74. Nearest the pin Suzanne Nelson No 15: Vicki Morrow; Ray Shove No 6: Susan Gleeson. Crunchie Bar; Rita Maxwell
Sunday, August 16 - Ladies Captain's Trophy Final Matchplay was contested between Polly White and Rita Maxwell; Rita played a very strong round winning on the 16th hole. Well done Rita
Saturady 8th August: Tim Hickey Memorial and Waikohu Club visit and Vets men match play results - Womens Trophy: Rita Maxwell - 35 stableford points; Kala Reeve 34, Glenys Hayes 33, Maria Gebert 31, Debbie McKillop 31, Polly White 30, Ella Wynyard 29, Sharon Howe 29. Mens Trophy: Eric Codlin – 40 stableford points; Division One: John McKain 36, Sam Howe 36, Brent McKillop 35, Tom Henwood 35, Tim Hickey 34, David Moore 33, Harold Ruff 32, Paul Brown 32, Dennis Newey 31. Division Two: Lew Kerr 38, Trevor Harris 37, Mike Lack 33, Kevin McMillian 33, Andrew Morrison 31, Joe Honotana 31, Steven Walker 31, Ryken Kingi 30, Larry Green 30. Nearest the Pins :No. 2: Ryken Kingi; No. 6: Marcus Abraham; No. 13: Sam Howe; No. 15: Larry Green; No.18 Maria Gebert. Longest Drives; Women age 0-50: Jascoe Ngaia ; Women age 51-60: Debbie McKillop; Women age 61-69: Ella Wynyard; Women age 70+: Maria Gebert; Men age 0-50: Paul Brown; Men age 51-60: David Brown; Men age 61-69: Charlie Hayes;Men age 70+: Julian Lee. Chrunchie Bars: Women: Mandy Walker. Men: Isaac Ruru. Two's: Larry Green. The weather was temperamental for the Tim Hickey Memorial, it started out beautiful then drastically turned when the wind picked up and brought in some light rain before returning to some sunshine. It was great to have our visitors from Waikohu in the field and although they did not make many appearances in the prize list, Larry was the only golfer to get a two. Despite not knowing that the tournament was on until he turned up to the course, Eric turned out a great score with 40 points. Even though Rita's first shot of the day went out of bounds and her last hole ended with a four putt, Rita managed to snag the top spot for the ladies. Peter Gleeson will be thankful he played Lew on Thursday for their Vets match as Lew came in with 38 points. Dennis, Charlie, Marcus and Tim won their matches; Brent and Trevor also go through and round out the second round of the old boys comp. Overall it was a great day, thanks to the Waikohu club for joining us for the day, we look forward to returning the favour soon.
Sunday 2nd August: Grandparents Day Results. Grandmother Best Nett: Sarge Tiopira. Maria Gebert 39, Mandy Walker 37, Jascoe Ngaia 37, Vicky Morrow 36, P White 34, Jacqui Rogers 32, Kala Reeve 32. Grandfather Best Nett: Raymond Shove. Elvis Kelsall 39, Ryken Kingi 36, Steven Walker36, Ross White 35, Ngawai Amoamo 34, Lew Kerr 34, Brent McKillop 34. Nearest the Pins: No. 2: Jascoe Ngaia; No. 6: Maria Gebert; No. 13: Steven Walker; No. 15: Trevor Harris; No.18 Ryken Kingi. Longest Drives: Women age 0-50: Rita Maxwell (Drawn); Women age 51-60: Sarge Tiopira; Women age 61-69: Kala Reeve; Women age 70+: Lyndsay Maxwell; Men age 0-50: Ryken Kingi; Men age 51-60: Brent McKillop; Men age 61-69: Peter Gleeson; Men age 70+: Robbie Petersen. Chrunchie Bars: Women: Lyndsay Maxwell. Men: Peter Gleeson. Two's: Ngawai Amoamo x2, Ryken Kingi, Steven Walker, Trevor Harris, Jascoe Ngaia. The overcast weather may have put a few people off but we had a nice turn out for our grandparent tournament with 15 men in the field and 16 ladies. Sarge's new irons are paying dividends as she has another trophy to add to her cabinet this year. We are all very pleased for Ray for taking out the grandfather's trophy since he wasn't able to close the deal on the last two finals he was in. Maria's great shot on no. 6 represented her overall great score with 39 stableford points. Ryken left his name all over the course and his shot on no. 18 was close enough that he would have been hoping for a hole in one. Despite taking out the longest drives in their respective categories, both Peter and Lyndsay took home the crunchies.
Saturday 1st August: Tatana Koopu 66, Hilton Rogers 67, John McKain 67, Peter Gleeson 68, Shane Malloy 69, Charlie Hayes 69, Milton Kiri 71. Twos: Brent McKillop, Shane Malloy, Charlie Hayes. Waiotahi Nearest the pin No.6: Hilton Rogers; Opotiki Drainlayers nearest the pin No. 18 Shane Malloy; Ray Shove nearest the pin No.13 Brent Mckillop. Crunchie Bar: Dion Reeve. Juniors: Hasley Howe 66, Charlie Haywood crunchie bar. Good to see Tatana bounce back from his poor showing last week to take out the top prize. Hilton managed to drag Ross through to the final of the Simpsons with a Nett 67. Peter and Dennis took out the hot favourites of Lew and Elvis to also make the Simpsons final. Good to see Koro Milt back in the field after a long layoff.
Saturday 25th July: Best Stablefords - Garth Carlyon 42, Ross White 39, Trevor Harris 38, Dennis Newey 38, Wayne Morrow 37, David Moore 37, Sam Howe 37, Hilton Rogers 36, Tom Henwood 36, Kew Kerr 35, Milton Loveridge 35. Twos: Brent McKillop, David Moore, Hamish Maxwell, Denis Newey, Kevin McMillan, Blair Draper, Ross White, Tom Henwood. Waiotahi Nearest the pin No.6: Tom Henwood; Opotiki Drainlayers nearest the pin No. 18 Ryken Kingi; Ray Shove nearest the pin No.13 Charlie Hayes; Crunchie Bar: Tatana Koopu. Juniors: Hasley Howe 37, Aiden Reeve 35, Charlie Haywood crunchie bar. All the practice that Garth has been doing with Sandra has paid off with a great 42 points. Ross and Hilton would have been hard to beat both appearing in the prize list this week. With the form Trevor and Wayne were in they would have been difficult to beat even if Andrew had not been injured.
Saturday July 18th : Twos: Trevor Harris, Denis Newey, Bruce Hawtin, David Moore, Micky Huriwaka. No.6 Waiotahi Nearest the Pin: Bruce Hawtin. No.13 Ray Shove Nearest the Pin: Micky Huriwaka. No.18 Opotiki Drainlayers Nearest the Pin: Tom Henwood. Crunchie Bar: Joe Honotana. Mens Results (Best Nett): Elvis Kelsall 64, Tatana Koopu 65, Dion Reeve 67, Lew Kerr 69, Terry Mulhern 69, Charlie Hayes 70, Brent McKillop 71, Bruce Hawtin 71, Glenn Steenson 71, David Moore 72, Ross White 72, Garth Carlyon 72. Juniors Results. Winner: Kopua Robinson. Crunchie: Aiden Reeve
Good to see our new members playing very well. Elvis Kelsall extremely well and produced a good score. Second week in a row Tatana Koopu was on the prize list. These guys are going to come down real quick. Dion Reeve had a great round with 71 off the stick making 67 nett, that practice is paying off, unfortunately, the cows are coming in so less time for golf.
Women's Results: No results for Wednesday, July,13 due to bad weather. Saturday, July 18 - Haggle: 1,Rita Maxwell Nett 71; 2, Sarndra Tiopira 73; 3, Debbie McKillop 75; 4, Kris Shove 76. Nearest the Pin Suzanne Nelson No 18; Mandy Walker; Ray Shove No 6: Kala Reeve ( drawn). Crunchie Bar; Susan Gleeson
Saturday 11 July, 2020: Twos: Kevin McMillan, Tom Henwood, Denis Newey, David Moore, Ross White. No.6 Waiotahi Nearest the Pin: Terry Mulhern; No.13 Ray Shove Nearest the Pin: Tom Henwood; No.18 Opotiki Drainlayers Nearest the Pin: Colin Kemeys; Qualifying round for Simpson's pairs on combined nett. Best individuals scores (Nett): Kevin McMillan, 70; Glenn Stenson, 70; Colin Kemeys, 72; Dion Reeve, 72; Michael Kemeys (Omanu), 73; Tim Hickey,73; Tom Henwood, 73; Hilton Rodgers, 73; Wayne Morrow, 73; Bruce Hawtin, 73. Kevin is enjoying a great run of form even if he was a bit wayward on 14, he still managed to score a six. Glen Steenson managed to use up all the luck in his group to shoot 70 nett after a long layoff from golf. Trevor is relieved Wayne finally got his act together and was able to carry them to qualifying for the Simpsons.
Congratulations to Hilton Rodgers and Terry Mulhoun for taking out the four ball best ball over Raymond Shove and Lew Kerr. Congratulations also to Bruce Hawtin and Bob Papuni for winning the plate against Ross White and John McKain
Saturday 4th July. Twos: Charlie Hayes, Dion Reeve, Joe Honotana; No.6 Waiotahi Nearest the Pin: Charlie Hayes; No.13 Ray Shove Nearest the Pin: Kevin McMillan; No.18 Opotiki Drainlayers Nearest the Pin: Dennis Newey; Crunchie bar: Blair Draper.
Best stablefords; Dion Reeve 38, Kevin McMillan 38, Ray Shove 37, Tatana Koopu 36, Brent McKillop 34, Shane Malloy 34, Ngawai Amoamo 34, Hamish Maxwell 34.
Unfortunately Trevor could not carry Wayne two weeks in a row for the four ball best ball so Hilton and Terry go through to the final against Ray and Lew. This should be a very even match over 36 holes. Dion and Kevin enjoyed the conditions taking out the haggle with 38 points. It was great to see one of our new member Tatana Koopu taking out one of the prizes.
Final of Four Ball Best Ball Scheduled for Sunday 12 July.
Women's Results: A great turn out of Ladies this week! Wednesday, July 1 - Haggle: 1, Jaquie Rogers 40; 2, Rita Maxwell 36; 3, Jodi Greenall 33; 4, Glenys Hayes 32; Suzanne Nelson nearest the pin; Jodi Greenall; Saturday, July 4 - Haggle: 1, Suzanne Nelson 29 Putts; 2, Sarndra Tiopira 30; 3, Lyndsay Maxwell 31; 4, Rita Maxwell 31 c/b; 5, Glenys Hayes 31: Nearest the pin: Ray Shove on No. 6: Vicki Morrow, Two's : Sandra Carlyon. Captain's Matchplay Rd 2: Polly White over Lyndsay Maxwell; Kura McMillian over Sarndra Tiopira; Karen Trafford over Sharon Howe by default
Coming Up: Saturday, July 11 and Wednesday, July 15 - Area Stableford Rd 3, Dorothy Hedley
Saturday 20th June, 2020: Twos: Trevor Harris, Wayne Morrow, Charlie Hayes; No.6 Waiotahi Nearest the Pin: Lew Kerr; No.13 Ray Shove Nearest the Pin: Kevin McMillan; No.18 Opotiki Drainlayers Nearest the Pin: Tom Henwood; Crunchie bar: Harold Ruff. Best Netts: Bain McKay 69, Tom Henwood 70, Ryken Kingi 70, Terry Mulhern 71, Wayne Morrow 72, John McKain 72, Kevin McMillan 72, Lew Kerr. The weather cleared so we could get around without getting wet. Bain took advantage of the good conditions taking out the haggle with a 69 nett. Tom and Ryken followed close behind on 70 nett. Harold on his first day back after lockdown got to go home with a prize, well done Harold.
Sunday 21st, 2020: Captains Match-play final over 36 holes played in wet, soggy conditions this Sunday morning : Congratulations to Tom Henwood who defeated Ray Shove on the 34th hole. Commiserations to Ray. Tom was 3 up at one stage but Ray battled back to be just 1 down with 5 to play. Then on that well renowned, and treacherous, No 14, not called the Wrecker for no good reason, disaster for Ray as he went OB, messed up 15 and 16 and Tom sneaked in. Tom says Ray lost the last three holes rather than him winning them, but a good match. The weather unfortunately kept the crowd away!! Picture: On the 7th with Ray waiting for a big hook from Tom!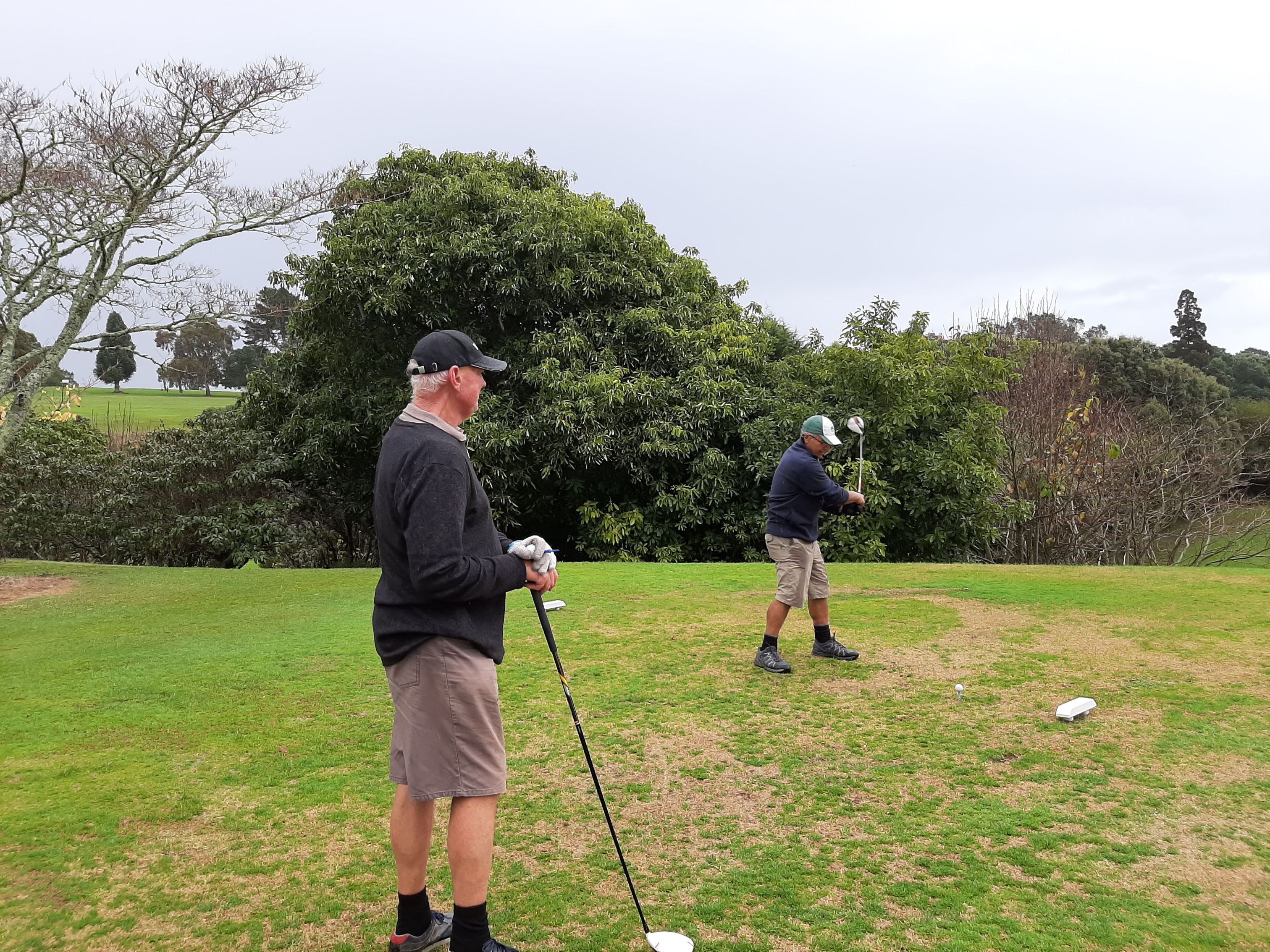 Saturday 6th June: Twos: Hayden White, Sam Howe, Tom Henwood, Julian Lee, Steven Fisher; No.6 Waiotahi Nearest the Pin: Julian Lee; No.13 Ray Shove Nearest the Pin: Steven Fisher; No.18 Opotiki Drainlayers Nearest the Pin: Bruce Hawtin. Crunchie bar: Keiren Hickey. Best Stablefords: Sam Howe 39, Dennis Newey 36, Bain McKay 35, Brent McKillop, Terry Mulhern,Tom Henwood 34, Steve Walker, John McKain, Bruce Hawtin, Milton Loveridge, Barry Howe 33.
Women's Results: Wednesday, June 3 - Haggle: Winner Vicki Morrow Nett 71, R/Up Polly White 74. Nearest the pin - Suzanne Nelson on 15 : Polly white. Saturday, June 6 - Haggle: Winner Lyndsay Maxwell 29 Putts, 2nd Glenys Hayes 29, 3rd Kate Morrison, 4th Vicki Morrow. Nearest the pin - Suzanne Nelson on 18:Susan Gleeson; Ray Shove on 6: Kate Morrison (drawn)
March - June: All Club competitions suspended due to COVID19 restrictions.
Saturday 29th February: Men's Shoot-Out 2020. Thirty-two entrants for qualification to find the top 19 to contest this years shoot out. As usual some big surprises! Number 1 surprise was Trevor Harris going out on number 1. But the bolter was Lew Kerr snatching a great win on 18 from Darrin Maxwell. In the process leaving more fancied horses in his wake. Full results, from No 18 (winner and runner up) backwards:
No 18 Winner - Lew Kerr; Runner up - Darrin Maxwell
No 17 Milton Kiri
No 16 Tom Henwood
No 15 Harold Ruff
No 14 Joe Honatana
No 13 Denis Newey
No 12 Wayne Morrow
No 11 Andrew Morrison
No 10 Butch Tuoro
No 9 Ryken Kingi
No 8 Robbie Petersen
No 7 Kevin McMillan
No 6 Charlie hayes
No 5 Hamish Maxwell
No 4 John Mckain
No 3 Shane Malloy
No 2 Bruce Hawtin
No 1 Trevor Harris

Ladies shoot out was won by Sarge. Runner up Marilyn. Winner of the lucky draw 1st prize Waimanawa, 2nd prize Kala. Congratulations and a big thank you to all 19 ladies who played. It was an awesome day, lots of laughs, lots of nervous shots. Special thanks to Vicki and Cushla for running the day, and Micky who helped us out as well.
Thursday 2nd January, 2020: Half-a-Beast-at-Least Holiday Competition: An excellent field of some 100 visitors and locals enjoyed a good day in warm humid conditions competing for a great prize table generously donated by Dion and Lisa Reeve, supported by Paul (Skip) Brown. Despite the heat the on-course BBQ was a great attraction with superb venison and sausage sandwiches washed down with cold refreshments. Many thanks to all those for their help with the BBQ and drinks, and to Damien Zeier for looking after bullseye punt on the Donga No 6 hole.
Longest drives: Women 0-50, Veronica Phipps; 51-65 Polly White; 66+ Marilyn Harris. Men 0-50 Howard Maxwell; 51-65, John McKain; 66+ Charlie Hayes. Nearest pins: Mens open No 2, Andrew Morrison; No 15, Denis Newey; Women's open No 13, Sarndra Tiopira, No 18, Sarndra Tiopira, and Non-handicap No 6, Terry Meacher. Two's: Andrew Bonner, Charlie Hayes, Brad Williams, Denis Newey, Same Howe, Howard Maxwell, Andrew Morrison, Ray Johnson.
Best Stablefords: Div 1 - Howe, Sam 42, Maxwell, Darin 42, McKain, John 41; McKay, Bain 40; Crarer, Mathew39; Fisher, Steven 39; Newey, Denis 39; Hayes, Charlie 38; Moore, Loki 38; White, Ross 37; Hudson, Mack, 37; Henwood, Tom, 37; Huriwaka, Micky 37; Maxwell, Howard 36; Maxwell, Hamish 36 . Div 2- Robbie Petersen 47; Tane Howe 46; Marcas Abraham 41; Shane Malloy 41; Stanley Smith 40; Peter J Gleeson 40; Julian Lee 40; Ryken Kingi 39; William R Copeland 39; Glenn Keith Phipps 38; Colin Kemeys 38; Wetini Mokomoko 38; Joe Honatana 37; Trevor Harris 37; Michael Davies 37; Andrew Morrison 37; Paul Nixon 36; Robert Selwyn 36; Lew Kerr 36; Doug Haswell 36. Womens Div - Rita Maxwell 42; Veronica Phipps 40; Gail Stables 40; Karen Trafford 39; Fiona Keegan 39; Glenys Hayes 38; Maria Gebert 38; Polly White 36; Jodi Greenall 36;Sarndra Tiopira 35. Non-Handicap Div - Melanie McKay, Kurt Margerson, Mark Clarke. Best Gross: Women – Glenys Hayes, 85; Men – Sam Howe, 70.